How to Style Jeans, 4 Ways to Wear Jeans
How to Style Jeans, Jeans are a wardrobe staple for almost everyone, but because they come in so many fits and styles, it can be tough to figure out how to wear them. Start by choosing the best fit for your body type, then zero in on colors and lengths. To create casual looks, try light washes, boyfriend cuts, and distressed skinny fits. For dressier looks, go with dark washes and pair them with sophisticated pieces that look polished.
Method 1
1. Choosing a Style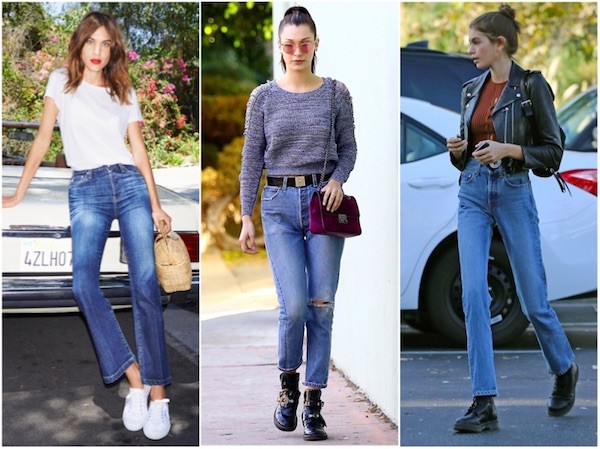 1
Try on a variety of fits to learn what works best for your body type.
Jeans come in more styles and fits than almost any other garment! However, you'll discover that some brands and fits tend to work best for you. Try on a range of fits and styles to find out what you like best. There's no magic formula for matching body type with the fit, but try these basic guidelines:
Slim fit, straight fit, and skinny fit jeans are usually a safe bet if you have a slim to average build.
If your build is over average or plus size, opt for a straight fit, loose fit, or tapered fits. Keep your outfit looking proportionate by pairing them with a slim-fitting T-shirt, button-down, or blazer.
2
Mix things up with a variety of colors.
Jeans come in every color under the sun, from white to bright neon. Go with basic black, blue, gray, or white for a refined, classic look. To create a more unique vibe, try a pair in your favorite color, like green or maroon
Once you find a fit or brand you really love, stock up on a few different colors so you can style your favorites jeans up or down as you please
3
Try different washes.
If you prefer to keep your jeans blue, experiment with different washes. Light or acid washes work great with t-shirts and sneakers or flats. Dark jeans with slim fits tend to be dressier and can be styled with blazers and dressy shoes for a more work-ready look. Medium washes are super classic, and you can create a variety of looks with them.
4
Experiment with different lengths to create a variety of looks.
Cropped and cuffed jeans are great choices for relaxed looks. Try them in your favorite wash and pair them with a cardigan, t-shirt, or sweater for an everyday style. For a retro flair, experiment with floor-skimming flares. If flares aren't your style, try boot cuts instead. High-waisted ankle jeans with tapered legs tend to look polished, but try pin-rolling tapered or straight legs for a slightly punkier vibe.
For example, you could try cropped, medium-wash jeans with a white cardigan and patterned t-shirt.
Shop with us Best Trending Clothes
Check our New Arrivals & Offers On Pinterest